WE TRAIN THE
PROS
ELITE
ENTREPRENEURS
BUSINESS OWNERS
SCALP MICROPIGMENTATION SMP COURSE SYDNEY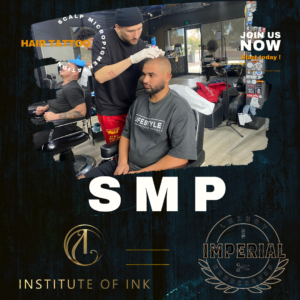 EXPERT TRAINER : If you want to be the best learn from the best. Its that simple. You will be trained by International cosmetic tattoo trainer and business coach with over 12 years international training experience.
WORLD CLASS CONTENT: Your cosmetic tattoo training course journey begins in Sydney CBD the moment you are ready to get started, wherever you are, whenever you want with self-paced online cosmetic tattoo course program delivered to you with easy-to-follow video modules.  
BROUGHT TO LIFE. Your SCALP MICROPIGMENTATION training in Sydney is brought to life with face to face training. Practical components begin from practice tattoo skins and mannequin heads to learn design, density and needle angles before transitioning to live models where you will be delicately guided through each model together. 
EASY ENROLLMENT:  Ready to get started ? Enrollment is an easy two step process. Simply complete the online enrollment form, and make course payment or deposit to secure your place in Sydney's Scalp Micropigmentation Training Course.
FLEXIBLE PAYMENT PLANS: Payment plans are available through ZipMoney, our  lay-buy. Discounts apply to cash payments (non-discounted)
Most frequent questions and answers
Choosing Institute of Ink was easy. The have a proven track record for high quality SMP training. This is an extension of  what we offer in our barber shop. The course was very professional.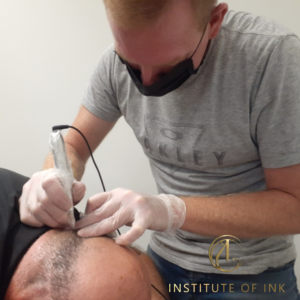 I came into this course for a complete career change from a completely industry. The scalp micropigmentation course with institute of ink was well structured and the diversity with the models was beneficial.  If you are thinking about doing a SMP course – this is the course you want to do.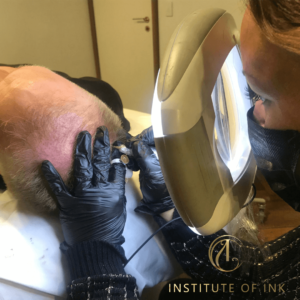 I had been wanting to do scalp micropigmentation course for a long time, I looked into many courses and what I like the most about Institute of Ink SMP training was everything was very clear from the get-go from the course content, what products were in the kit to pricing – everything was up front from the start. I'm really happy with the course – I have done many courses over the years for my business – this is defiantly one of the best – thank you!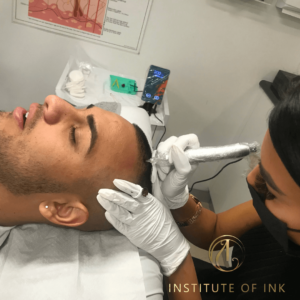 This course was awesome – I loved every minute of it! I have done training with Danii before – and she is an amazing trainer. She keeps it real, breaks down everything in easy step by step ways.. and is so supportive and realistic. Loved it!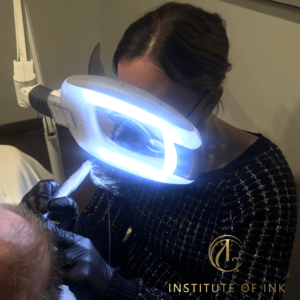 I am a business owner of a hair salon – over the years I have seen the direct results of hair loss and the impact this has on my clients self-esteem. I completed the SMP course with Institute of ink because of how professional they are I also like the fact that the qualifications are earnt – we have levels to meet – that's a great thing. I have a long list of clients wanting this – so its a no brainer to add this to my business. 
Scalp Micropigmentation Course in BRISBANE is (SMP) is a very effective option those wanting to learn a variety of scalp micropigmentation techniques. Our SMP training in BRISBANE covers many important scalp micropigmentation topics for instances of Alopecia, male and female, thinning hairlines, pattern baldness and scarring on the scalp. Scalp Micropigmentation process is also a very good improvement for clients which have had a hair transplant and for those who require more density, or have scarring from the procedure. The pigments used have been developed for Scalp Micropigmentation are absorbed by the immune system through phagocytosis in a span of two years maximum meaning the results can begin to fade after 6 months. In order to keep the result looking fresh and natural we recommend the clients return once a year for a maintenance application.
Institute of Ink SMP techniques and products vary from many of the main competitors and it causes less risk to the client because with the passing of time each dot of implanted pigment will simply fade away and the client will have no residue left on the scalp. We just have to wait to let the immune system do its job.
 Scar Coverage
Most scars can be treated effectively but we always need to make sure the scar tissue is stable and we need to work on it very carefully. Most scars on the scalp are due to previous Hair Transplants (FUE or FUT) but occasionally also other trauma can be the cause of these scars. The healing process for every individual is different and even in ideal skin conditions scars can unexpectedly change while still healing. We need to understand the different types of scars we might encounter in order to be able to asses if we can work on them or not.
 Hair Loss Solution
Scalp Micropigmentation in Brisbane is rapidly growing in popularity as a treatment for hair loss. It is a perfect solution for hair simulation on its own or in combination with a Hair Transplant where it can increase the appearance of density. The technique we use requires that the special pigment is placed as micro dots (smaller than 1mm in size) and distributed correctly. The technique and products we have developed will offer you the best tool possible to create natural looking follicles.
Density Effect
The Density Effect is only possible if there is enough hair left on the scalp. A density effect can only be used if the amount of hair in the area to be treated is sufficient enough and the right length according to the rest of the hair in order to remain a natural look. When the difference is too big between the area to be treated and the area with hair the result will look unnatural. In this case we would advise the client to choose the Shaved Effect.
Shaved Effect
If there is not enough hair to work with the Density Effect the only option for the client is to choose the Shaved Effect. Many men already adopt a shaved look to minimise the appearance that they are balding.